Bachelor's degree in Chemistry
OTHER BACHELOR DEGREES
MASTERS
Professional development in industry
Genetic, Physical and Chemical Forensics
Professionals of Chemistry fluent in English are increasingly demanded, either by chemical companies or in the research area, where English is used worldwide. Chemistry is a fundamental branch of Science studying the structure, behaviour and changes of matter at the molecular level.
The goal of the Bachelor's degree in Chemistry fully taught in English is to educate qualified professionals for carrying out activity in the industrial, educational or research domains in an international environment. The learning plan, equivalent to that in Catalan/Spanish language, is carried out entirely in English (master classes, practical and laboratory work, oral presentations and exams). At the end of the Bachelor's degree you will be able of developing new chemical compounds and controlling chemical processes in different domains of major relevance for the society, such as food industry, health, environment and new materials areas. At present the URV is the only university in Catalonia or Spain offering the Bachelor's degree in Chemistry fully taught in English language.
Teaching is based on personalized follow up and tutoring approaches thanks to our low student-to-teacher ratio. The program will provide you with a firm theoretical basis of chemistry, together with the necessary practical application and laboratory work. The program will allow you to get skilled in teamwork, written and oral communication proficiency and critical thinking through discussions and complex problem solving. The last year of the Bachelor's degree, you can choose among a set of eligible courses to adapt it to your desired profile.
The B2 level of English is highly recommended to follow the courses, although the minimum requisite is the B1 level.
NEWS FROM THE 2020-2021 ACADEMIC YEAR:
►Information of the academic year 2020-21
►Organization of teaching (updated on 21/09/20): FIRST COURSE and SECOND TO FOURTH COURSE
►Mid-term exams Pending classrooms
►Partial exams Pending second semester classrooms
►Agreement and assessment forms for End of Degree Work
►Security Plan in the laboratories of the Faculty of Chemistry
►Mobility programmes
►Learning-Service Programme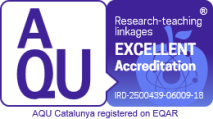 Why with us?
1. We offer the only Degree in Chemistry in Catalonia that, in addition to being accredited with excellence, certifies an interaction between research and excellent teaching given by the Agency for the Quality Assurance of the Catalan University System

.

2. URV is the best university to study Chemistry in Spain, according to the U-ranking 2017, 2018 and 2019 (BBVA foundation and IVE).
3. Among 8000 universities in the field of Chemistry, DOW Chemical has chosen the URV as one of the 8 strategic universities in the Europe, Africa, and Middle East area.
4. You will be part of the Campus of International Excellence Southern Catalonia, an international benchmark in knowledge, research, and competitiveness within the areas of chemistry and energy.
5. Our faculty has a strategic location, nearby the largest petrochemical pole in Southern Europe. Also, there is an important cluster of food, cosmetics and water treatment companies in the area.
6. You will have the opportunity to carry out practical work in chemical companies or in internationally renowned research centres.
7. Tarragona is a very safe city with a 15-kilometres coastline and a mild climate, located 30 minutes away to Barcelona and 2.5 hours to Madrid by high-speed trains. The cost of living in Tarragona is low compared to most capital cities.
8. Our students have the opportunity to take courses not only in other European universities thanks to Erasmus exchange programs, but also in other companies and institutions around the world as well.